Fire Tower Challenge News
Fire Tower Challenge Merchandise is Available for Purchase.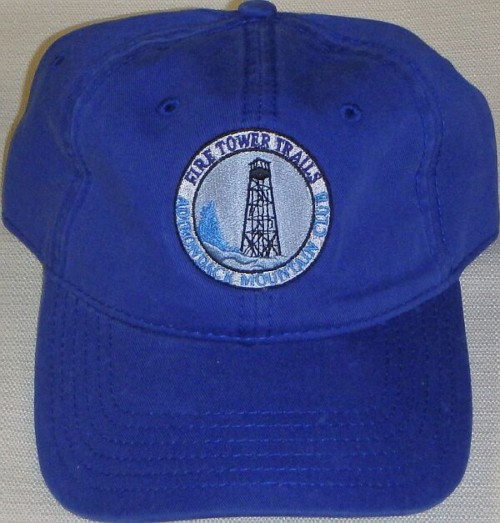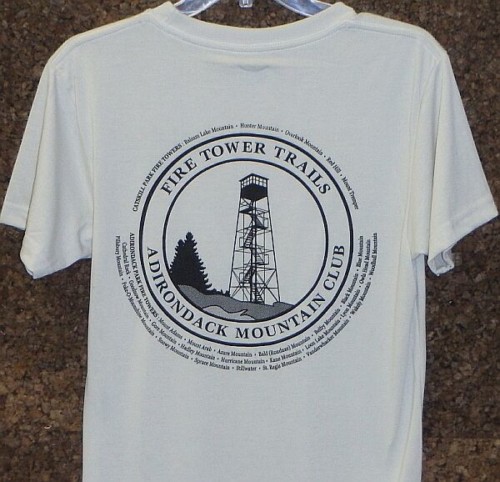 FTC Hats and T-Shirts can be purchased at ADK HQ, 814 Goggins Road in Lake George off of Northway Exit 21. Makes a great gift!
---
Reading the finisher letters is always interesting and inspiring. Keriann and John Mietz loved the challenge so much that John proposed to Keriann on Bald Mt and they had fire tower centerpieces with candles in them at their wedding. Thatís just awesome! Robert Suss reminisced about receiving souvenir cards that were given out at the top of the tower mountains. He still has many of them. Lori Semprevio commented how she successfully used a compass to bushwhack back to the trail when she had gotten of the main trail.
2018-02-03 Gore Removed From Tower List During Winter Ski Season.
Due to Gore Mountain not allowing uphill travel during ski season the ADK Fire Tower Challenge committee has decided to remove Gore from the tower list during the winter ski season. Dates will vary depending on the opening and closing of the ski season. This is being done for obvious safety reasons.
2017-01-25 DEC Notice: Spruce Mountain Fire Tower - Stay off private property!
Spruce Mountain Fire Tower - Stay off private property A dirt road ascends Spruce Mountain from the side of the mountain opposite the hiking trail. It leads to the Saratoga County communications building just below the fire tower. This road is on private property and is not accessible to the public. It is extremely important that we always respect the rights of property owners. Please do not use this road.
2016-December - DEC has Closed the Wakely Mountain Trail Until Further Notice!
"The fire tower was closed to public access in December 2016 due to structural deficiencies" Announcement from the state agency said. "The condition of the tower has worsened and it is possible the tower may collapse in heavy winds."
DEC is closing the trail to prevent injuries to visitors if the fire tower collapses. The agency's announcement said repairs will be undertaken as soon as possible to prevent the collapse of the fire tower.
Wakley Mountain will continue to be included in the Fire Tower Challenge for those that climbed the trail before its closing.
2011-11-02 Update: Loon Lake Mountain included in the Fire Tower Challenge
Effective November 2, 2011
Loon Lake Mountain
in the northern Adirondacks is included in the Fire Tower Challenge and counts toward the 18 Adirondack fire towers. If you have a brochure that does not list this fire tower, please manually add it to the list along with the date of your climb in order to receive credit for this tower. For more info contact: .
ADK Forum - Fire Tower Thread:
View Forum
Facebook Fire Tower Challenge Group:
View Facebook Group
Congratulations to the people who have completed the Fire Tower Challenge:

Ashley Congdon Ilion, NY
Sascha Clapper Ilion, NY
John Mietz Weedsport, NY
Keriann Mietz Weedsport, NY
Bob Reepmeyer Saratoga Springs, NY
Robert Suss Voorheesville, NY
Christine Rounds Clifton Park, NY
Mark Purdy Liverpool, NY
Zachary Purdy Liverpool, NY age 13
Mychaela Purdy Liverpool NY age 9
Peter Evans Webster, NY
Ryan Kelly Whitesboro, NY
Karmie Klotz Whitesboro, NY

Congratulations to those who have received the Winter Challenge Rocker:
 
Nancy Haggerty Johnsburg, NY
Robert Haggerty Johnsburg, NY
Lori Semprevio Johnstown, NY single season

Some statistics - Kathi Noble
Approximately 600 finishers as of January 2011
2012 40 regular finishers, 1 winter & 4 children
2013 33 regular finishers, 3 winter & 2 children
2014 41 regular finishers, 2 winter & 1 child
2015 87 regular finishers, 14 winter & 1 child
2016 109 regular finishers, 6 winter & 1 child
Tim & Kathi Noble
Firetower Correspondents