BOREAS PONDS UPDATE
(2018 March)
On February 2, 2018, the Adirondack Park Agency (APA) Board voted to accept the Boreas Ponds classification and recommend the preferred alternative to Governor Cuomo for his final consideration. The Governor issued a statement the same day saying he looked forward to s igning the APA classification package.
The APA approved Alternative 2B, presented below, which classifies 11,400 acres around Boreas Ponds as Wilderness. The Wilderness classification will maintain the remoteness and protect the fragile characteristics of the Boreas Ponds. Public uses will be limited to non-motorized and non-mechanized uses, including kayaking, canoeing, hiking, skiing, and camping.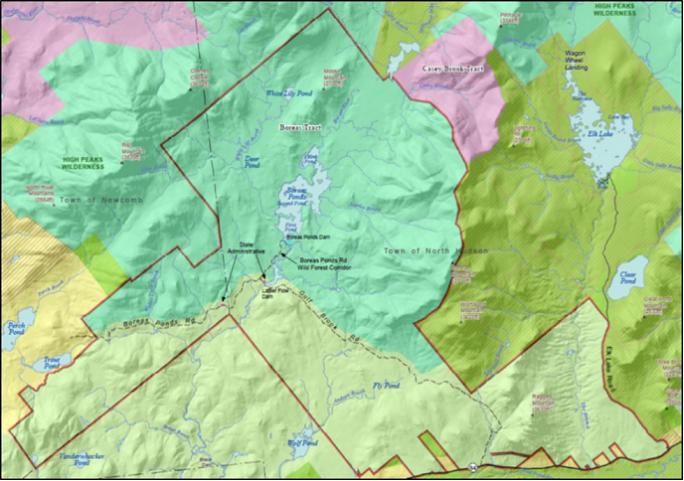 The southern portion, 9,118 acres, of the Boreas Ponds tract will be classified as Wild Forest and includes the Gulf Brook and Boreas Ponds Roads north of the LaBier Flow Dam. Under this classification the New York State Department of Environmental Conservation (NYSDEC) will be allowed to maintain the dam and public motor vehicle use can be as close as 0.1 mile from the dam and shoreline of Boreas Ponds. Public uses in the Wild Forest area can include motorized recreational uses such as bicycles and snowmobiles.
An 11-acre area near the Boreas Ponds Dam will be classified as Primitive, allowing NYSDEC to maintain the dam. The Primitive classification prohibits public motorized use.
Further development of recreational opportunities and improvements, including trails, trailhead parking, and campsites, will be decided during the Unit Management Plan (UMP) planning process. Lands classified as Wilderness will be added to the High Peaks Wilderness UMP and the Wild Forest lands will be added to the Vanderwhacker Mountain Wild Forest UMP. Both UMPs are expected to be revised this summer.
Throughout the Boreas Ponds classification process, the APA received a great deal of public feedback, including the attendance of 1,215 people at the public hearings, more than 11,000 written public comments, and three petitions with over 27,000 signatures. Draft UMPs will be available for public review and comment.
The APA's press release with a description of the recommendations and the overall 2016-2017 State Land Classification action can be found at the following link:
Press Release
.
PRIMITIVE TENT SITES IN ADIRONDACK PARK
(2018 January)
The Adirondack Park Agency and New York State Department of Environmental Conservation are jointly seeking public comments for the proposed Draft Best Management Practices for Design and Layout of Primitive Tent Sites in the Adirondack Forest Preserve. The guidance pertains to primitive tent sites, defined as no more than three tents with a pit privy and fire ring, outside of NYSDEC campgrounds.
The guidance would provide standards for constructing, operating, and maintaining primitive tent sites. The public comment period will end on January 22, 2018. Please contact ADK or visit their website (www.adk.org) for the club's position on the proposed guidance. More information can be found on NYSDEC's website
www.dec.ny.gov/lands/111867.html
NY VOTING RESULTS ON PROPOSITIONS
(2018 January)
Proposition 1 – Constitutional Convention
- A big win for ADK and many other organizations. On November 7th, voters rejected the constitutional convention proposition. The ADK opposed the proposition stating it would weaken or detrimentally modify the "Forever Wild" protection under Article XIV of the NY Constitution. The next vote on the constitutional convention is due in 2037.
Proposition 3 – Forest Preserve Land Bank Amendment
– Approved by voters and ADK, this proposition creates a forest preserve land bank of 250 acres for qualifying local projects in the Adirondack Park. Municipalities can use the land bank when there is no viable alternative to use forest preserve land for roads, wells, or other amenities. The proposal also allows bike paths, trails, and certain public utilities within the width of highways cutting across forest preserve.
NEW TRAILS IN THE PALMERTOWN CONSERVATION AREA
(2017 June)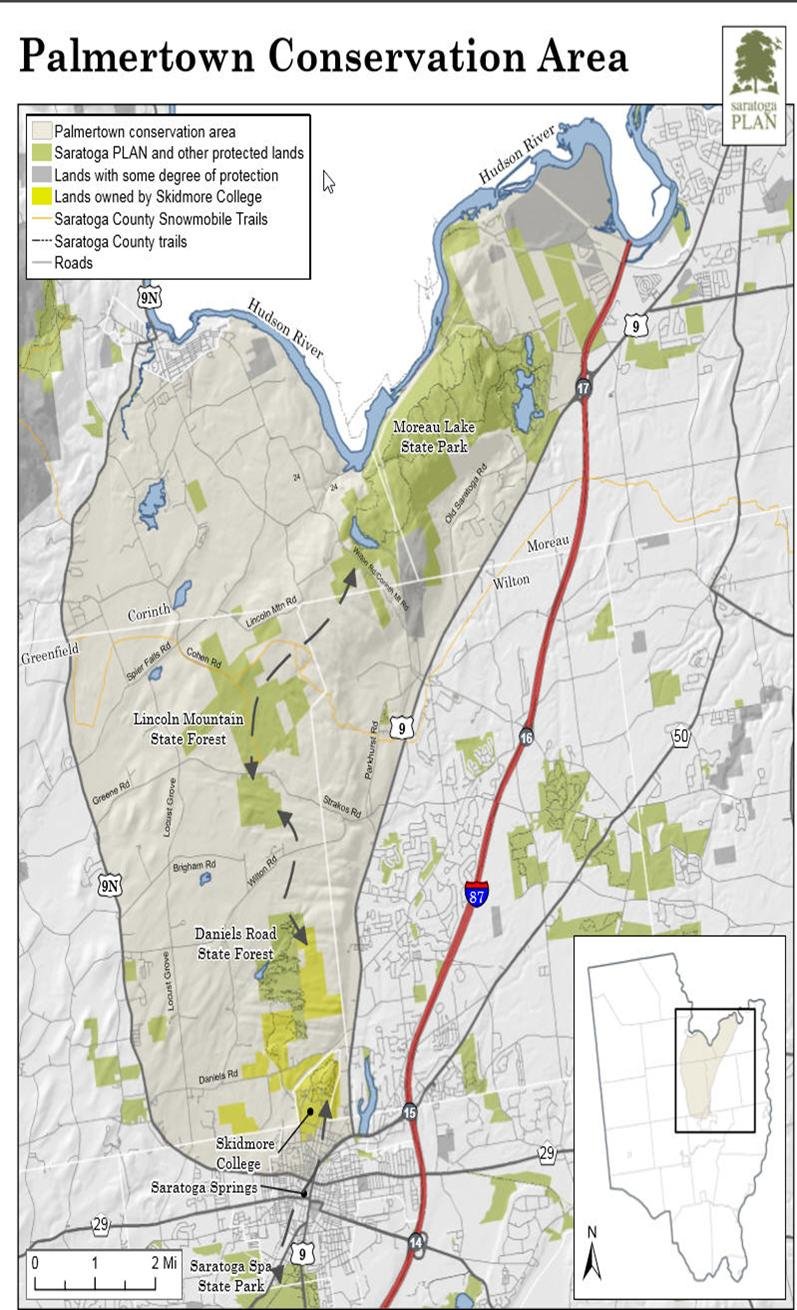 Working with Saratoga PLAN graduate students in The State University of New York at Albany 2017 Graduate Planning Studio class recently delivered their final presentation on conservation and recreation analysis of the Palmertown Conservation Area. The students' analysis will provide a starting point for an upcoming initiative to involve the local community in developing a strategic and comprehensive conservation plan for the Palmertown Conservation Area, stretching from Moreau Lake State Park down to Saratoga Springs.
Open Space Institute and PLAN recently received a $40,000 Conservation Catalyst Grant from the New York State Conservation Partnership Program. The grant will allow the conservation groups to engage local communities in planning for the area's future. The goals of this grant are to accelerate conservation between Moreau Lake and Saratoga Spa state parks and to create a 13-mile recreational link between the parks and local communities.
Utilizing GPS, GIS, and extensive local knowledge, Saratoga PLAN volunteers are currently working with public and private stakeholders scouting new trail routes. The ultimate goal is a continuous multi-use trail network stretching the length of the Palmertown area.
Already there are new hiking opportunities opening up in the area, including trails around Lake Bonita in Moreau Lake State Park. Accessible from a marked parking area off of Wilton Mountain Road, there is a loop trail around the lake, with connections to the Waterfall Trail and the Lake Ann Trail. Check out PLAN's map for more information:
LOBBY DAY 2017
(2017 May)
Lobby Day for the Environmental Protection Fund (EPF) was held on February 14, 2017 in Albany. The EPF has provided millions of dollars to protect natural resources, open space and farmland, and water quality, funded invasive species control, and has also contributed to economic development. ADK's goal is to increase funding for the EPF to support projects and programs, such as open space, invasive species control, and stewardship (i.e., Summit Steward Program). Participants met with legislators and their staff to discuss the importance of the EPF to help support these essential programs. Participants urged their legislators to maintain the $300 million funding level, increase funding for land acquisition and open space, and increase funding for aquatic invasive species prevention and management strategies (i.e., boat washing and inspection stations). SOLAR IN SPA CITY
SOLAR IN SPA CITY
(2017 May)
The former Saratoga Springs city landfill is getting a facelift this summer. A non-penetrating ground mounted solar array will be installed on the landfill on Weibel Avenue. Onyx Renewable Partners will design, build, and operate the 2 megawatt solar array and plans to break ground in early April and be operational this summer. The project is being financed by Onyx and grant money from NYSERDA NY-Sun Program. About 40% of the city's utilities will receive power from the solar array for Phase 1 of the project. Phase 2 of the project will provide community residents the opportunity to buy into a shared/community solar arrangement.
Boreas Ponds Tract
(2016 January)
ADK has joined other environmental groups to urge Governor Cuomo to expand the High Peaks Wilderness area to include the 21,000 acre Boreas Ponds Tract. The former Finch, Pruyn & Company property was recently purchased by the Nature Conservancy and the state is expected to acquire the land by the end of the fiscal year on March 31, 2016. The addition of the Boreas Ponds Tract, along with other recent state purchases, to the High Peaks Wilderness would create a 280,000 acre Wilderness Area, larger than the Rocky Mountain National Park or Mount Rainier National Park.
ADK is lobbying for classification of the area as "wilderness" which protects and preserves the lands in their wild state. ADK is also proposing that the plan permit a snowmobile trail "to be constructed to connect the hamlets of Newcomb and North Hudson along the Blue Ridge Road." Neil Woodworth recently stated that "The Boreas Ponds must be protected inside a motor-free wilderness to preserve water quality, a fishery free of the threat of aquatic invasive species, and a rare opportunity for solitude and quiet." More information and an ADK Action Alert is available at ADK.org.
Watershed Property to be Opened for Public Recreation
(2015 November)
Officials from the City of Glens Falls and the Town of Queensbury have reached an agreement to open a portion of the City's watershed property for public recreation. The property is located in the Town of Queensbury; the Town will develop trails on the land and the City will retain its water rights. Past issues with adequately protecting the water supply had been an obstacle to opening the lands..
A loop trail around Butler Pond will be open for walkers and bicyclists during the non-winter months. Part of this trail is on a Warren County snowmobile route, thus making it unavailable for other uses during the winter. Another short trail along Halfway Brook will be open year-round; it will connect Aviation Road to Peggy Ann Road. Parking areas are planned for Butler Pond Road and Aviation Road.
Public Right of Navigation Upheld
(2015 November)
In January, the Appellate Division of NY's Supreme Court upheld a 2013 lower court decision in favor of a journalist sued by property owners who claimed that waterways on their land should be closed to the public. The lawsuit originated when private landowners in an area near the Whitney Wilderness Canoe Area challenged a 1998 ruling establishing recreational use as a valid reason for whether or not a waterway should be open to public use.
These landowners, who had put up barriers and 'No Trespassing' signs along Shingle Shanty Brook, filed a lawsuit against a paddler who published an account of a paddling trip along the brook between Little Tupper Lake and Lake Lila. Supporters of paddlers' rights welcom January's ruling and hope that it will open up more waterways for public use. The property owners said they will likely appeal this new ruling to a higher court - the Court of Appeals.
Budget Proposes Increase for Environmental Protection Fund
(2015 November)
Governor Cuomo has proposed increasing the Environmental Protection Fund's (EPF) budget allocation from $162 million to $172 million. Environmental groups, including the Adirondack Mountain Club, had been pushing for an increase to $200 million. The fund is used for projects such as open space protection, stewardship of state parks and other public lands, controlling invasive species, and restoring historic sites.