Upcoming Chapter Programs
All programs are free and open to the public. Reservations are not required. Directions and maps to program locations on these web sites:
For Past Programs:
Upcoming Programs

Wed March 22 - Hiking in Patagonian Andes by John Schneider at 7 pm Saratoga Lib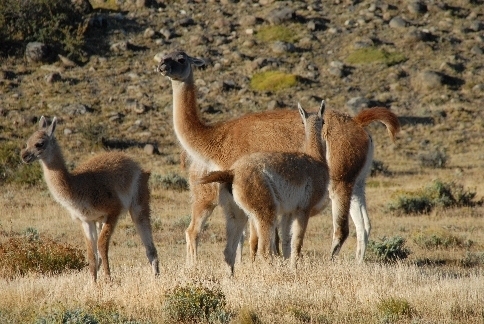 To me, when I used to hear the word "Patagonia", I imagined all sorts of wonderful hiking and sightseeing in the lower part of South America. Last spring I had the marvelous opportunity to spend time hiking in two wonderful national parks in the Andean Mountains of Argentina and Chile. I spent four days hiking one of the iconic hiking treks in the world, the "W Route" in Torres Del Paine National Park in Chile. This part of the trip saw us first hiking to the base of the "torres," towers, for which the park is named.
The following three days we through-hiked, staying overnight in full-service camps. We ended this trip on a lake with a boat ride along the terminus of a glacier and then nine miles to the other end of the lake. In Argentina we spent two days hiking in Los Glaciares National Park. We hiked in the area of Mount Fitz Roy, the highest peak of this park and named after the captain of the HMS Beagle. Spending much time travelling in vans also allowed us to experience a very, very small part of the grasslands (pampas) in this sparsely inhabited area of these two countries.
On this trip I saw a number of iconic South American animals, including guanacos (wild members of the llama family), rheas (ostrich-like flightless birds), a number of Andean Condors (the world's largest flying birds), the endangered South Andean deer (guemal or huemul), and a number of birds I was not able to identify.
Come join us as we deal with a broken hiking boot on the second day of our four-day hike, and view lakes, flowering plants, birds and other marvelous sights. Come with us as we visit a town that was founded in the 1985 as part of a border dispute between Argentina and Chile.
I'll end the program with aerial views of a number of glaciers from the world's second largest non-polar ice field. The flow of these "rivers of ice" is amazing to behold.
---

Wed Apr 26 - Wildlife and History of Southern Africa 7pm at Crandall Library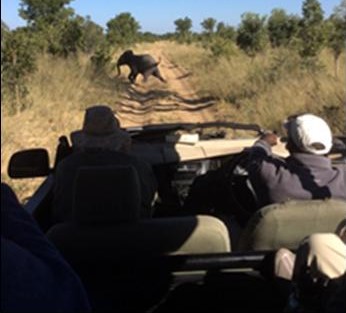 Neal and Edna Van Dorsten will present "The Dark Continent", an illustrated slide talk on the wildlife and history of southern Africa, on Wednesday, April 26. This is a joint program with Southern Adirondack Audubon Society. The program will be held in the Christine L. McDonald Community Room on the lower level of Crandall Library in downtown Glens Falls.
This presentation will include highlights of their flying safari in southern Africa, including adventures in South Africa, Zimbabwe and Botswana. Their wildlife photos will include both common and rare birds and animals.  They will also discuss the logistics of the trip, interesting sidelines and problems that may be encountered on a trip like this. They'll also discuss the cultural diversity and history of that region.
Neal and Edna Van Dorsten reside in Bolton Landing and share a love of travel. Their other recent trips include the Amazon, Alaska and the western United States and Canada. Edna also pursues her love of archaeology and bird watching, and Neal enjoys adventure travel and flying, including self-flying safaris in Africa. The Van Dorstens own a private aircraft, which facilitates many trips to unique and interesting destinations. On their last trip to Africa, this past May, they were joined by Diane James, the former postmaster in Bolton Landing.
(Please avoid wearing fragranced products to the program. Fragranced products trigger allergies, asthma and migraines in others attending the event.)
---

Wed May 17 - ADK Fire Tower Challenge Historical Perspective 7pm at Crandall Library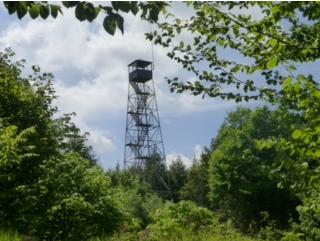 Everyone enjoys the views from the cab of a fire tower, but why are they there in the first place? Please join Laurie Rankin, Director of the NYS Chapter of the Forest Fire Lookout Association for an in depth look at why fire towers were placed on so many of the mountaintops in the Adirondacks. After you see and hear all of the details, you will be looking at things a bit differently on your next hike to one. Perhaps you will even want to get involved in restoring one.
Along with being the NYS Chapter Director of the FFLA, Laurie is the daughter of the last full time Fire Tower Observer on Balsam Lake Mountain in the Catskills, an ADK Fire Tower Challenge finisher, and an avid hiker who has completed the NE 115 in both summer and winter. Laurie is currently enjoying taking the grandchildren to revisit these special places and get the views from on high.