All programs are free and open to the public. Reservations are not required. Directions and maps to program locations on these web sites: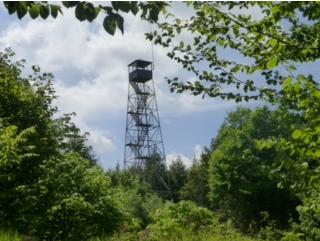 Everyone enjoys the views from the cab of a fire tower, but why are they there in the first place? Please join Laurie Rankin, Director of the NYS Chapter of the Forest Fire Lookout Association for an in depth look at why fire towers were placed on so many of the mountaintops in the Adirondacks. After you see and hear all of the details, you will be looking at things a bit differently on your next hike to one. Perhaps you will even want to get involved in restoring one.
Along with being the NYS Chapter Director of the FFLA, Laurie is the daughter of the last full time Fire Tower Observer on Balsam Lake Mountain in the Catskills, an ADK Fire Tower Challenge finisher, and an avid hiker who has completed the NE 115 in both summer and winter. Laurie is currently enjoying taking the grandchildren to revisit these special places and get the views from on high.